Great Danes are energetic yet laid back dogs and most times enjoy a quiet indoor snooze on the couch.
This does not mean that they don't like activities that engage them. There are activities that they like that keep them both mentally stimulated and physically fit. 
What do Great Danes like to do? The activities that Great Danes like to do include taking walks, scavenger hunts, outdoor activities and competitive challenges. They also like to interact with people and programs such as pet therapy programs are opportunities that enable them to do this. A Great Dane enjoys these activities which also keep them active and healthy.
In this article we will aim to show you the activities that Great Danes like to do which keep them active and entertained.
Having these activities in mind helps a Great Dane owner have  activities that their canine companion can enjoy as well as keep them engaged.
How Do You Entertain A Great Dane? Activities For Great Danes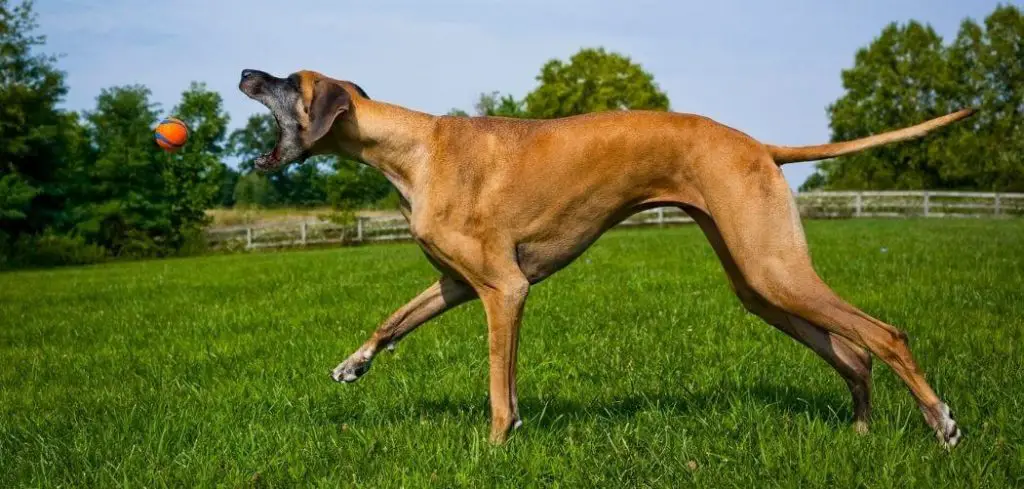 The Great Dane enjoys certain activities and incorporating these activities in their daily or weekly routine is very beneficial to them.
These activities keep them healthy by being active and best of all they can bond with their owners during the sessions. The following consists of activities Great Danes like to do:
A Great Dane is not specifically a runner, however, they love taking walks.
Daily walks are a fun time for them to exercise their bodies and also bond with their owners.
One long walk a day or too short walks two times a day are best for them.
The time period of the walks ranging from   30 to 60 minutes.
Although enjoyable, caution should also be taken not to over exercise them before they are two years old because their bones are still developing.
This prevents overexertion and development of skeletal problems.
Also avoid exercising or walking them right after meals to avoid bloat which is a common Great Dane health risk.
Recommended Reading: How to stop separation anxiety in Great Danes
Great Danes were originally bred to be working dogs to help hunt for boars.
This means that they  have a hunting skill by being able to sniff out and track their targets by using their natural ability of detecting scents.
As their owner, you can nurture this skill.
This can be done by hiding treats or stuffed toys with treats in your home or backyard and encouraging your dog to find them.
A Great Dane loves this because this is what they are specialized for.
This is a fun activity that keeps their primal skills sharpened and nurtured.
Outdoor activities that involve being in nature such as being out at the park, camping or picnics are all loved by a Great Dane.
Taking a Great Dane out from their normal home environment helps them to interact with a new environment and can also be able to socialize with other people and dogs.
Being able to be outside with nature is an activity they like.
Competitive challenges are also activities that Great Danes love that also sharpens their skills.
These include agility, tracking, obedience events, flyball sports and weight pull challenges.
These have been shown to be enjoyable and engaging for a Great Dane.
They help a dog become mentally stimulated and well-adjusted because they also offer the opportunity for interaction with other dogs, people, situations and environments.
Dog events provide these competitive challenges as well as training sessions with dog trainers.
An obstacle course challenge is also among the activities that develop Great Danes athletic skills by navigating through them to test for endurance, speed and agility.
You can also do this in your backyard for them to enjoy.
Recommended Reading: The best Great Dane ear cropping styles
Outreach therapy programs are programs designed to offer pet therapy to people in hospitals, schools or nursing homes.
Dogs have been good companions in providing love during these sessions to individuals and children.
The Great Dane is a friendly and affectionate dog that is well-suited for this and also they enjoy the attention they get from meeting people.
The human-animal interaction provides health benefits to the individuals involved by improving their social, physical and emotional wellbeing.
You can volunteer to get involved in these outreach programs by first getting in touch with training and certifying organizations to allow for participation.
An example of this organization is the Pet Therapy Delta Society.
Apart from giving back to the community your Great Dane will enjoy this interaction with people.
Great Dane club activities
One way to also keep a Great Dane active with activities that are specifically for them is to join a local Great Dane club in your area.
These clubs offer activities such as obedience clinics or group walks among others which Great Danes enjoy.
The clubs provide an opportunity for a Great Dane to interact, socialize with other dogs, play and get exercise.
Great Danes are gentle, friendly and laid-back dogs. They require some activities to engage them and keep them active. Incorporating activities that they like to do either daily or weekly is important which will keep them fit and entertained.
We hope this article helped you know more of what the Great Dane likes to do as well as how you can keep them active and entertained.
By following the different tips and also discovering more on what your dog individually likes, you will have an arsenal of activities that your dog can engage in and enjoy.