Looking for a Blue Great Dane puppy name? You're in the right place! We've got 50 great ideas for your new puppy.
Among the different Great Dane colors, blue is a popular color that many Great Dane owners or new owners love. Selecting a name based on this fascinating color is also a major desire for Blue Great Dane owners.
So, have fun going through the list of the names!
Blue Great Dane Puppy Names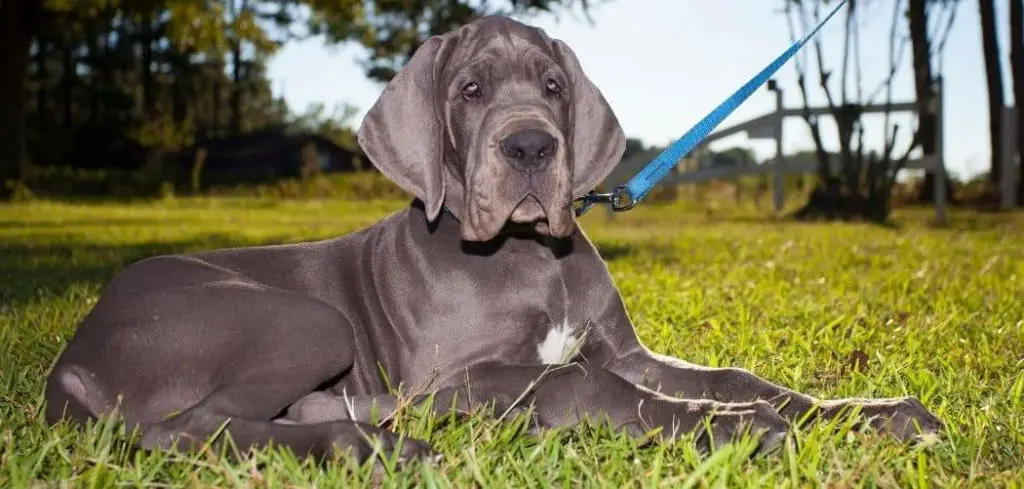 | | | |
| --- | --- | --- |
| Ash | Indigo | Stone |
| Azul | Iron | Stoney |
| Azrue | Lead | Squirrel |
| Blue | Liberty  | Smokey |
| Bluebelle | Lunar | Smoke |
| Banchee | Midnight | Spectre |
| Blooregard | Misty | Skye |
| Cobalt | Metal | Sky |
| Cloud | Mouse | Silver  |
| Cerulean | Navy | Sledge |
| Cyan | Pewter | Sapphire |
| Denim | Pebbles | Sharky |
| Foggy | Royal | True |
| Flint | Smog | Teal |
| Fog | Slate | Tide |
| Fossil | Steel | Zaffre |
| Grayson | Silvy |   |
Tips for choosing a Blue Great Dane puppy name
When selecting a Great Dane puppy's name there are a few considerations to think about:
Select a simple name that is easy for your puppy to recognize and respond to. This type of name will also help during training for an easier response from them.
A rule of thumb is to stick to names that are not too long and difficult to say. Select a name that will help to catch your puppy's attention quickly and one that is easy to pronounce.
Recommended reading: Blue Merle Great Dane
By choosing a unique name, you will give your puppy a nice fascinating name for them. Avoid common names such as Max, Buster, or Scooby-Doo. These are all too common and not unique enough.
Do not select a name that sounds or can be mistaken for a command. 'Bo' and 'Joe' all sound like 'No' which are perfect examples of this.
Remember a name is a long-time long-term commitment for the next 7 to 10 years therefore choose a name that you like and gravitate towards.
Read more:
Think about their personality
Spend a few days observing your puppy and getting to know their personality. This will help to guide you on the type of name to give them.
A puppy's name can be selected based on its physical attributes, breed, personality, coat color, or gender. Ideas can come from these sources.
Selecting your puppy's name is an exciting as well as an important task because it is the name that you will use to communicate with their Great Dane puppy. 
Choose a name that rolls off your tongue easily, one that your Great Dane puppy responds to quickly, and also one that will create a bond between you and your dog.
The most important thing is to take your time during the selection process so that you choose one that you and your puppy will be happy with. 
I hope you have been inspired by our list of Blue Great Dane puppy names based on their unique coat color.